I am a huge Indian food fan. I've always loved the complexity of flavors in the food. So I decided to add Chili Smith beans to a favorite recipe to see how it would taste. Delicious is how! I used Yellow Indian, Hutterite and Runner Cannellini at three separate times for this recipe. They all worked great! I have a sneaky suspicion that any bean would work great!
Ingredients:
3 medium sized potatoes boiled and chopped into bite-size pieces and cooled
1/2 a package of green peas, thawed (I get mine from Trader Joes)
3 medium-sized tomatoes (You can also use 1 can of chopped tomatoes)
1-2 Medium sized onions, chopped
3 tsp. of garlic paste or cloves minced
2 tsp. of ginger paste (Trader Joes, yet again)
1 chopped chili pepper, seeded and chopped finely (I used a Jalapeno)
1/2 tsp. Turmeric powder (excellent for your liver, and a natural anti-inflammatory)
1/2 cayenne pepper (you can use more, if you like the kick like I do!)
3 tsp. Garam Masala (Now here comes the flavor! I found this at the Sac Co Op, or a health food store that carries bulk spices. It's delicious and addicting!)
1 tsp. Cumin seeds
Pinch of salt to taste
2 TBSP Oil
1/2 pound pre-cooked Chili Smith Heirloom beans (Yellow Indian Woman, Hutterite, Runner Cannellini, Green Flageolet, etc.) You choose!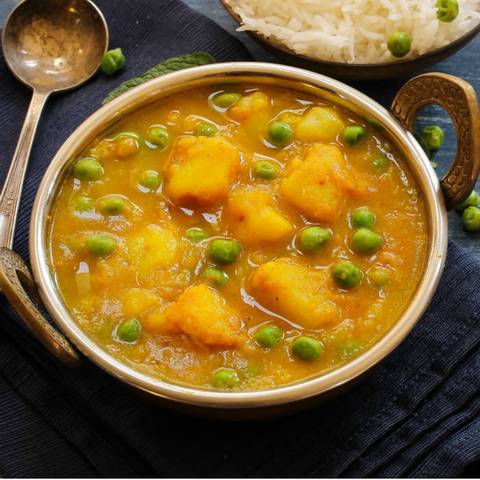 Directions:
In a sturdy skillet, preferably cast iron, heat oil over medium/high heat and add Cumin seeds
Cook for about 1 or 2, until lightly brown.
Add garlic and ginger paste to mixture cook for 1 minute
Add onions and jalapeno and cook until lightly browned
Add tomatoes and cook for another minute or two
Add spices one by one, Turmeric, Cayenne, Garam Masala, salt
Mix spices really well turn down to medium heat and let simmer for about 5 minutes
Add ½ package of thawed green peas and ½ pound of Chili Smith Heirloom beans
Add about 2 cups of water or veggie broth (Add more if you'd like more sauce)
Simmer again until water heats and bubbles, about 5 minutes
Add potatoes, again cook until sauce thickens
Turn heat off and let stand for at least 30 minutes.
You can serve with rice or Quinoa, or with nothing at all!
*This is one of those dishes that taste the best the next day, or even the day after that when all the spices have had the chance to marinate and get to know each other well. I sincerely hope you enjoy!