Ingredients:
1 cup white beans – fully cooked They suggest canned, we think ours are more flavorful and nutritious Use Hutterite, White Eye, Rice Bean, Runner Cannellini.
1 cup black beans Black Valentine, Sunset Runner, maybe Hidatsa Red. Think about color and texture along with flavor. Black Calypso, Good Mother Stallard, CHRISTMAS LIMA, and several other Chili Smith heirloom beans will make this formula tasty and beautiful! We did this one with Hidatsa Red, Rice bean and Black Valentine for an almost Red, White and Blue celebration!
1 large tomato, diced – preferably fresh from your garden, or a good neighbor!
1 small onion, diced
1 medium celery rib, diced
2 Tbsp white or red wine vinegar
3 Tbsp minced fresh Italian parsley or basil
Salt and Pepper – to taste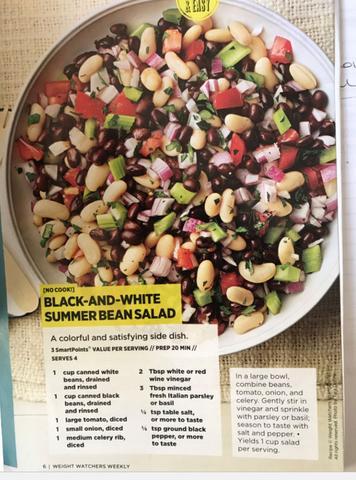 Method:
Cook, drain and chill beans
In a large bowl, combine beans, tomato, onion and celery. Gently stir in vinegar and sprinkle with parsley or basil; season to taste with salt and pepper.
Serves 4 – Yields 1 cup salad per serving