Ingredients:
1 to 1 ¼ pounds fresh shell beans, such as Sunset Runner or Runner Cannellini runner beans, shelled (about 1 3/4 to 2 cups, shelled)
1/2 onion
3 plump garlic cloves; 1 crushed, 2 minced
Bouquet garni made with a few sprigs parsley and thyme, Parmesan rind and a bay leaf, wrapped in a leek leaf and tied with twine
Salt
2 tablespoons extra-virgin olive oil
2 large leeks, white and light green parts only, halved and cut in 1/2-inch slices
1 celery stalk, chopped
1 cup peeled, seeded and chopped tomatoes (about 3/4 pound)
Ground black pepper
1 good-size pattypan squash or other summer squash, quartered and sliced
1/4 inch thick (about 2 cups)
Slivered fresh basil leaves for garnish
Freshly grated Parmesan for garnish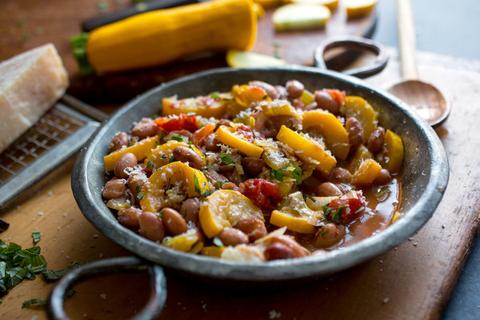 Preparation:
In a heavy soup pot or Dutch oven, combine the beans, onion, crushed garlic clove, bouquet garni and 4 cups water. Bring to a boil. Add salt to taste, reduce heat, cover and simmer 30 minutes. Remove and discard onion and garlic clove.
Meanwhile, heat olive oil over medium heat in a medium skillet and add leeks and celery. Cook, stirring, until they begin to soften, about 3 minutes, and stir in minced garlic. Cook, stirring, until fragrant, 30 seconds to a minute, and add tomatoes. Season to taste with salt and pepper. Cook, stirring often, until tomatoes have cooked down slightly, about 10 minutes.
Stir leek and tomato mixture into beans, along with summer squash. Bring back to a simmer and cook 15 minutes, until beans are creamy-tender but intact and the vegetables are soft and fragrant. Taste and adjust seasonings. Remove bouquet garni.
Ladle ragout into wide bowls. Top each serving with a generous sprinkling of slivered basil leaves and a spoonful of Parmesan.