Cooking Beans:
1 lb. Chili Smith Black Valentine Beans
1 tbsp. sea salt or (Sriracha Salt) or mix
1 tsp. black pepper
1 ½ Tbsp. ground cayenne pepper
3 cloves minced garlic
1 chopped Jalapeño pepper
1 tbsp. Italian mixed herbs (Oregano, Thyme, Sage, Basil, Rosemary)
1 lime – squeezed lime juice
Taco Fixins:
Corn or flour tortillas
Avocado – sliced
Sliced cherry tomatoes
Sliced or chopped red onion
Sliced Jalapeño pepper
Salsa or taco sauce
Grated Cheese (Or your favorite Vegan cheese)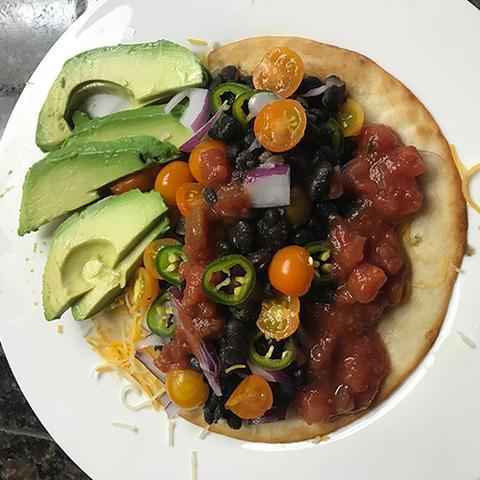 Soak beans in water for 24-36 hours:
Cover with water and bring to boil
Add ingredients and simmer for 3-4 hours or until beans are tender
Keep liquid covering beans – Stir occasional and add water if needed to cover beans
Taste for added salt or additional cayenne powder
Best if refrigerated overnight and re-heated
Prepare Taco fixins for taco assembly.
Fry corn and flour tortillas in Olive oil until slightly crispy but pliable.
Assemble your taco and enjoy!!
Delicious!!