Note – This soup can be made with any Chili Smith Heirloom bean, and with or without meat.
Meat and Beans:
1 pound Chili Smith Christmas Lima heirloom beans – presoak 8 – 12 hours in clear water – no salt or seasoning.Rinse and place in heavy bottom pot or pressure cooker with ham bone, ham shanks, ham hocks (or lamb!)
1 quart water – make sure beans are covered
1 Bay Leaf
1 tablespoon Chili Smith Soup Seasoning – Garlic, Lemon Pepper, Oregano, Cumin, Dry Mustard, Salt and Paprika
Bring to boil or to 10 pounds pressure and reduce heat to simmering. Cook until tender – approximately 2 hours traditional or 15 – 20 minutes pressure While that is cooking…
Soup and Veggies:
Large heavy bottom pot – heat
1 – 2 tablespoons Olive Oil – we like chipotle infused
1 cup each diced sweet and red onion
1 diced shallot

Lift onions and mix with oil – cook until translucent

1 each – Turnip, Yam and Sweet Potato– peeled and diced in 1" cubes or smaller
2 cups – Summer Squash – I like the already prepared from Mann or Raley's
Lift from bottom of pot to coat with onion/oil mix – WHEN all oil is absorbed…
1 cup Organic Vegetable Broth – OR – beer – we like whatever is local…
Stir well and cover and allow steaming for five minutes…
2 tablespoons Chili Smith Soup Seasoning – stirred into 1 cup additional broth – add to veggies and allow to come back to boiling
Cook at simmer until veggies are getting softer – NOT – fully cooked…
1 medium (303 size) diced tomatoes in sauce – add entire can and sauce to pot and stir
Allow to return to simmer, stir well, cover and shut off until beans and meat are ready…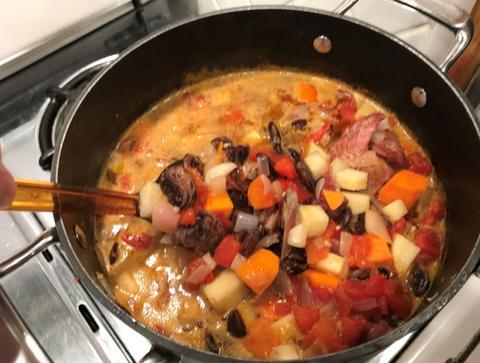 Blend:
Add meat and beans to soup pot – aren't you glad you got a BIG one now? – and turn gently from bottom.
Bring back to simmer and allow to gently cook for 15 minutes or more until everything is ready!
Add a little moisture – water or broth – if needed
DO NOT overcook!
WAIT!:
It is ready to eat and will be delicious now, but will be even better after is has chilled and rested in the refrigerator overnight.
Toppings:
Sour cream, Corn or Tortilla Chips, Diced Green Onions or jalapeños, Sharp Cheddar Cheese – shredded and excellent with fresh Cornbread…
Leftovers:
Freezes very well or can be refrigerated for several days for 'grab and heat' quickie meals.