Preparation:
14 oz package of Chili Smith Heritage Beans – we like Jacob's Cattle Gold or maybe Tiger Eye. 
– Rinse the beans and then soak them for eight to twelve hours in lots of water.
– Drain the soak water, add a little salt and fresh water to a level just above the beans and bring to boil. Reduce to simmer for 40 minutes or an hour until tender to the touch.
One pound of Bacon Ends and Pieces diced fine.
– Sautee in a heavy bottom pan – we like cast iron.
One large Onion – Margaret found natural green onions – we use yellow, red, or sweet
– Dice in ¼ inch pieces and add to bacon until clear.
3-4 Garlic Cloves or one tablespoon of diced garlic
– Add to batch and continue sautéing
Add drained beans to mix – some cooks save the cooked beans water for other uses.
– Fold all together and add sauce.
Sauce:
One – 18 oz bottle of BBQ Sauce – we used KC Masterpiece KC Flavor – I like Stubbs Original brand as well.
1 or 1 ½ cups catsup
1 cup honey
¼ cup Dark Molasses
Kosher or Himalayan Salt, Cracked Pepper, Garlic and Onion Powder to taste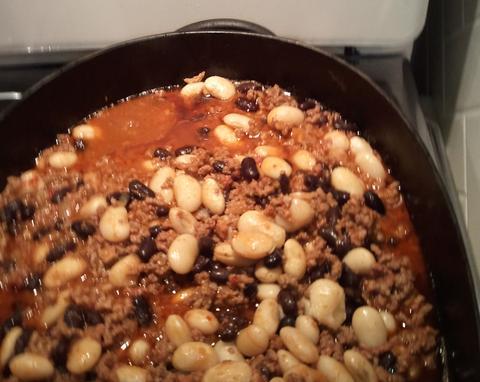 If you like spicy – add some chili powder or crushed jalapeño peppers – I like to add that later for individual taste.
Stir the sauce into the beans and bacon mix and keep at simmer temp or just below for several hours with a lid on.
This can go in an oven at 200 degrees or over coals and covered with soil in a Dutch oven.
Can be served right away and/or refrigerated for great flavor blending.
This can freeze for use later.
You will find a dark, very fragrant, sweet and sour BBQ flavor that is incredible as a side dish with Burgers, Hot Dogs or all by itself for Fourth of July Parties and summer outings.
This will produce about one-half gallon of beans. For larger gatherings simply use a 28 oz package of beans and double the balance of ingredients.
Cowboy Up!
Wade and Margaret were from pioneering families in northern California and like many of the ranchers – then and now – they took their cattle from the valley to the higher elevations of the Sierra Mountain Range during the summer. There is less heat and still, plenty of nutritious green grass and cool, clean snowmelt water in the mountains east of Jonesville long after the grasses of winter and spring had dried in the valley.
Their summer home was an old mountain cabin in a beautiful meadow right on the path the stagecoach had taken years before. The barn and cottage had served as the changing station for horses pulling the stages and livery wagons up the Sierra. This was not an overnight destination in the old days of California – that was the Jonesville Hotel – this was a place to break while the hands changed horses for the next pull on the way towards Reno.
We always looked forward to visiting them because of the history and stories that were shared. Margaret was superb at fly fishing and Fresh Mountain Rainbow Trout were a steady part of their diet as was venison from the deer in the area. They had no indoor plumbing, electricity, propane or anything other than what was used in the days of the stagecoach station.
It was a very cool place to visit, and Wade and Margaret didn't get many visitors on this all-but-forgotten dirt road. Their days consisted of doing all the chores necessary to live in a remote location and when not tending to cattle and other livestock, there was a small garden patch where fresh vegetables grew when the deer didn't eat them! Shopping in a town was not even a weekly occurrence so when friends would come with the mail, we always knew to throw in some special items from town!
These were competent, self-sufficient and self-reliant people. There was nothing they could not do and they were great teachers and fun to be around.
After spending the day on horseback or moving some bales of feed from the barn for horses, milking to make butter (and that wonderful, rich, unpasteurized liquid that becomes milk), gathering and splitting wood for the stove and fire, gathering berries that grew naturally ("keep an eye out for the bears" Margaret would warn as we left with our pails…) or picking tiny little apples off trees planted by the original stagecoach workers and then making incredible jams and fresh pies made for big appetites! Oh, what appetites!
One of the staples always on hand was dried beans. Margaret made soups, chili, salads and seemingly everything with beans – and were they ever delicious! There was an outdoor cooking area on warm days and a place to gather around a nice fire on cool evenings and an antique wood-burning stove and oven in the cabin kitchen. What beautiful breads, pies, cobblers, and cakes came out of that thing! Always, always, there was a big cast iron Dutch oven keeping things hot or cooking something wonderful and often that was a simple dish that included beans. That heavy cast iron pot and a metal coffee pot seemed to be ready all the time.
Many times, those ovens were filled with "left-over's" from other meals and – as cast iron will – took on a unique flavoring, and always good! Frontier cooks just learned to spice, blend and mix to create healthy, filling and deliciously long lasting meals! And the aroma?! Oh, my!
Well, this recipe is based on my memory of those days. It is simple, flavorful, and nutritious and gets better with age! It reminds me of that sweet couple and glorious times of old. Enjoy!